Dates and durations
Phase 1 :

12 months (+ 3 months extension)
November 2019 – February 2021

Phase 2 :

6 months
February 2021 – August 2021
Actors of the project

Learn & Go
Institut de Recherche Informatique et Systèmes Aléatoires (IRISA) – Intuidoc (INSA) and Expression (Rennes 1 University) laboratories
Institut Supérieur du Professorat et de l'Education – Bretagne (INSPE)
Laboratoire d'Observation des Usages des Technologies de l'Information et de la Communication (LOUSTIC)
Rennes 2 University
Academy of Rennes
Academy of Nancy-Metz
Academy of Orléans Tours
Presentation of the partnership
The objective of the P2IA project (Partnership for Innovation and Artificial Intelligence) launched by the Ministry of Education,  is to develop a teaching assistant based on artificial intelligence, intended for teachers and pupils in cycle 2.
In this context, the French P2IA project aims to develop artificial intelligence solutions to help learning French (writing and spelling).
The Kaligo Cycle 2 solution developed by LEARN&GO, INSA-IRISA, University of Rennes 2, LP3C and UR1-IRISA, is one of the solutions chosen to help learning French (writing and spelling), for phase 1 (Research and Development) and phase 2 (Industrialisation).
Role of the Intuidoc team
In this project, the Intuidoc team is responsible for the design and development of the artificial intelligence engine for the automatic analysis of handwriting of CP, CE1 and CE2 students.
This work is based on an improved version of the handwriting analysis engine developed by the Intuidoc team, notably in the context of the Intuiscript project, optimised by the Labcom Script & Labs and integrated in the Kaligo application of the company Learn & Go.
The objective is :
to  improve this artificial intelligence engine in order to allow a fine analysis of writing in a dictation context, i.e. a morphological, orthographic and phonological analysis of the child's handwriting.
to generate relevant feedbacks to the child allowing him/her to identify his/her mistakes.
to extend the analysis to groups of words and short sentences.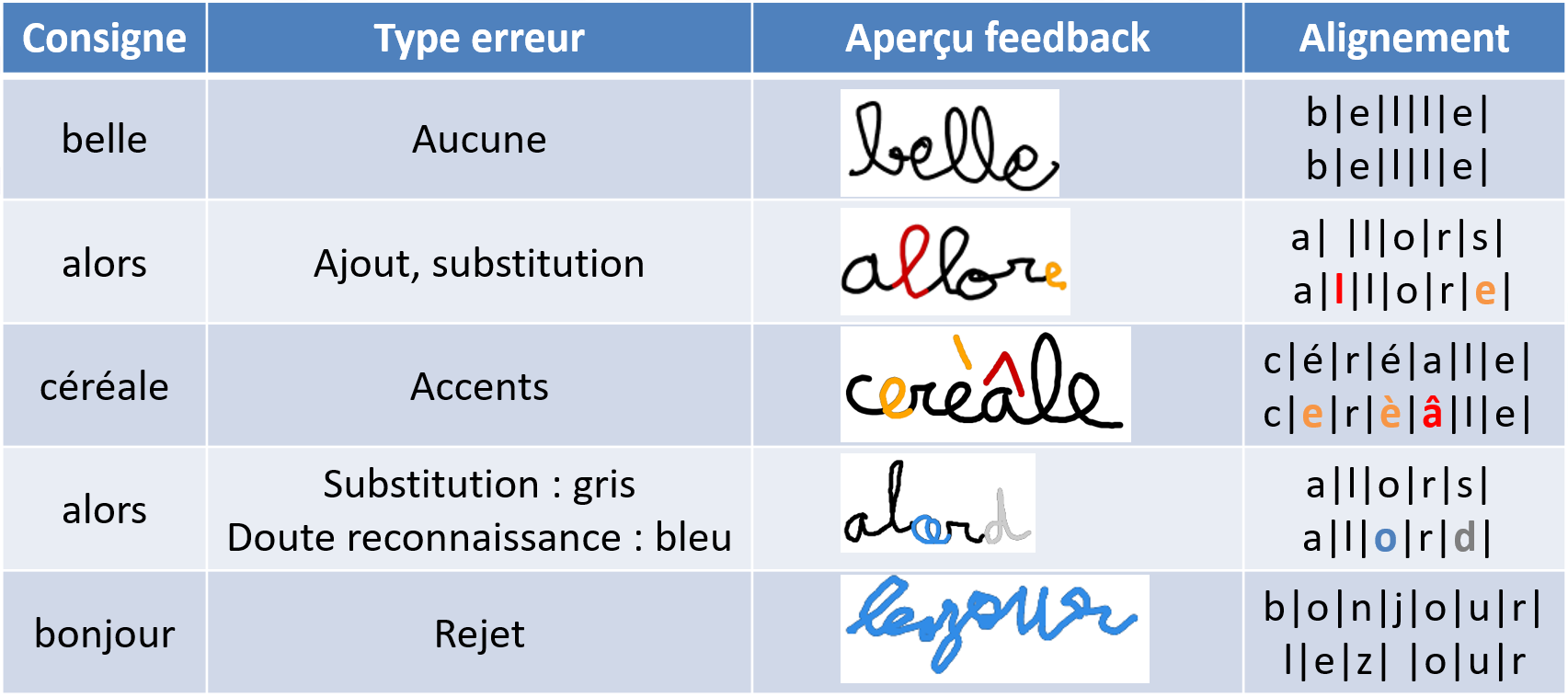 Examples of feedback generated by the morphological, orthographic and phonological analysis engine.
IntuiDoc team researchers and engineers involved in the project
Omar KRICHEN (since 1 November 2020)
Damien SIMONNET (until 13 March 2020)
Etienne DELAHAYE (until 17 December 2020)
Morgane CARRY (until 4 December 2020)
Rémi CORNILLET (from 16 March 2020 to 7 August 2020)
More information:
Presentation of the P2IA project by the Ministry of Education:
https://eduscol.education.fr/1911/partenariat-d-innovation-et-intelligence-artificielle-p2ia
Kaligo Companion website: https://kaligo-cycle2.com/